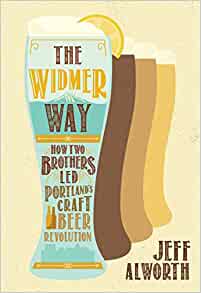 The Widmer Way by Jeff Alworth
Portland, Oregon, didn't always have a wildly successful craft brew scene. Someone had to be daring enough to innovate, and the Widmer brothers were just the men for the job.
Written by Portland beer guru Jeff Alworth (The Beer Bible, Beer Tasting Tool Kit), The Widmer Way chronicles Kurt and Rob Widmer's journey from humble homebrewers to craft beer pioneers and purveyors of the iconic Widmer Brothers Hefeweizen. Alworth also dives deep into Portland's history, setting the scene for Widmer's rise in the city now known for its exquisite beer.
Drawing from hours of interviews with Kurt and Rob, close family and friends, and big names in the beer industry, The Widmer Way offers an exclusive look into the Widmer brothers' lives and their enormous impact on craft brewing in Portland and beyond. Alworth explores the Widmer family's beer history, the brothers' German influence, the brewery's distribution deal with Anheuser-Busch, and the formation of the Craft Brew Alliance, one of the largest craft brewing companies in the United States.