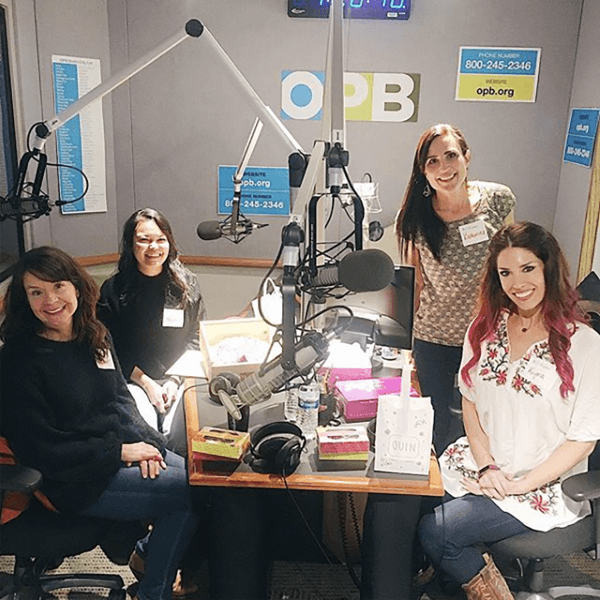 FAQ
We occasionally hear from friends who say they'd love to listen to podcasts but aren't sure how to go about it. Or, they tell us, "I want to listen to your show, but I just don't have time!"
We're here to help! Here's a quick lowdown on how to access podcasts like ours, plus answers to a few other questions we often receive from listeners.
A podcast is an audio program that's available digitally so that you can listen to it anytime, wherever you want. It's like a radio show, except that you don't have to turn on your radio at a certain time in order to catch it.
You can access podcasts through your laptop, tablet device, or smartphone. Whether you listen in your car, via your Amazon Echo, on headphones, or through your device's speakers is up to you!
On your smartphone or tablet, you can find us through Apple Podcasts, Spotify, and other listening apps.
If apps aren't your style and you'd prefer to just stream The Four Top, you can do that directly from our website's Episodes page. Just click on the episode you'd like to hear and you'll be redirected to a listening window.
We actually find that listening to podcasts makes us more efficient with our time! We tune in while we're cooking, cleaning up the house, gardening, walking the dog, jogging, and commuting.
It's easy to be distracted when we're doing something boring like folding laundry. Podcasts keep us engaged, focused, and on task! Listening to people we trust discussing issues we're curious about makes the time fly by.
We like to think of The Four Top as a news-and-culture discussion show rather than merely a wine show. There are plenty of places to hear and read interviews with sommeliers, restaurant reviews, and pairing tips.
We deliver something else. In each episode, distinguished experts—authors, vintners, filmmakers, activists, and entrepreneurs—discuss the ways in which wine intersects with issues like sustainability, human rights, and culture.
We love listening to roundtable discussions about current events and culture. When experts with different points of view exchange ideas, it makes for a more robust conversation, and more engaging listening.
We tend to tune out the sound of a single voice if it is droning on indefinitely (unless that voice belongs to Dua Lipa). Hearing different voices makes the listening experience more nuanced and interesting. And if the panelists can make each other laugh, all the better, because we're laughing, too.
The NPR Politics Podcast and NPR's Pop Culture Happy Hour are both examples of roundtable discussion podcasts. Many of the Slate podcasts are set up this way, as are most of the Crooked Media podcasts.
Think Out Loud, from our friends at OPB, features occasional news roundtables, as well.
We love our sponsors, and we'd love for you to become one of them! Our listeners represent a desirable demographic of professionals who are keenly interested in food and wine. Contact us at thefourtop@gmail.com to find out how to support The Four Top while building your brand.