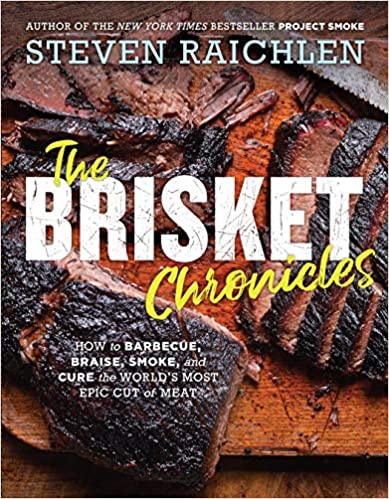 The Brisket Chronicles by Steven Raichlen
Take brisket to the next level: 'Cue it, grill it, smoke it, braise it, cure it, boil it—even bake it into chocolate chip cookies. Texas barbecued brisket is just the beginning: There's also Jamaican Jerk Brisket and Korean Grilled Brisket to savor. Old School Pastrami and Kung Pao Pastrami, a perfect Passover Brisket with Dried Fruits and Sweet Wine, even ground brisket—Jakes Double Brisket Cheeseburgers.
In dozens of unbeatable tips, Raichlen shows you just how to handle, prep, and store your meat for maximum tenderness and flavor. Plus plenty more recipes that are pure comfort food, perfect for using up leftovers: Brisket Hash, Brisket Baked Beans, Bacon-Grilled Brisket Bites—or for real mind-blowing pleasure, Kettle Corn with Burnt Ends. And side dishes that are the perfect brisket accents, including slaws, salads, and sauces.