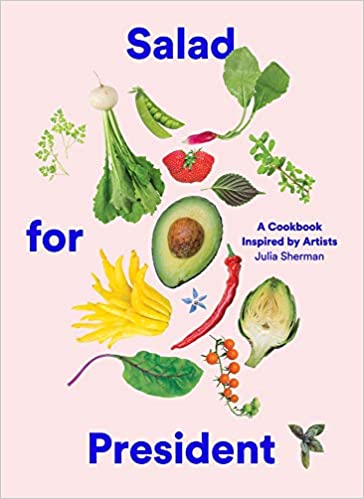 Salad for President by Julia Sherman
The creator of the immensely popular Salad for President blog presents a visually rich collection of more than 75 salad recipes, with contributions and interviews by artists/creative professionals like William Wegman, Tauba Auerbach, Laurie Anderson, and Alice Waters.
Julia Sherman loves salad. In the book named after her popular blog, Sherman encourages her readers to consider salad an everyday indulgence that can include cocktails, soups, family style brunch dishes, and dinner-party entrées. Every part of the meal is reimagined with a fresh, vegetable obsessed perspective. This compendium of savory recipes will tempt readers in search of diverse offerings from light to hearty: Collard Chiffonade Salad with Roasted Garlic Dressing and Crouton Crumble, Heirloom Tomatoes with Crunchy Polenta Croutons, or Flank Steak and Bean Sprouts with Miso-Kimchi Dressing. On the lighter end there are Grilled Hearts of Palm with Mint and Triple Citrus, Persimmon Caprese, and fresh Blood Marys. The recipes, while not exclusively vegetarian, are vegetable-forward and focused on high-quality seasonal produce. Sherman also includes insider tips on pantry staples and growing your own salad garden of herbs and greens.