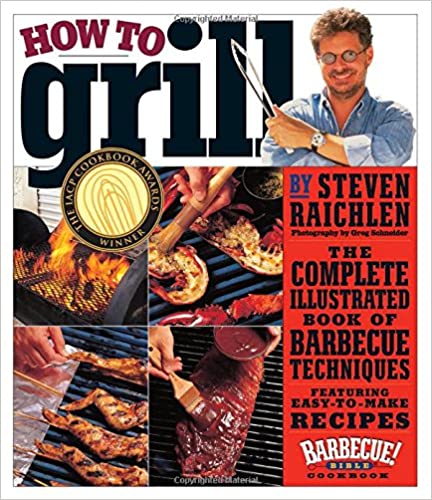 How to Grill by Steven Raichlen
Winner of an IACP Cookbook Award, How to Grill is "the definitive how-to guide for anyone passionate about grilling, from the newest beginner to the most sophisticated chef" (Tom Colicchio).
A full-color, photograph-by-photograph, step-by-step technique book, How to Grill gets to the core of the grilling experience by showing and telling exactly how it's done. With more than 1,000 full-color photographs, How to Grill shows 100 techniques, from how to set up a three-tiered fire to how to grill a prime rib, a porterhouse, a pork tenderloin, or a chicken breast. There are techniques for smoking ribs, cooking the perfect burger, rotisserieing a whole chicken, barbecuing a fish; for grilling pizza, shellfish, vegetables, tofu, fruit, and s'mores. Bringing the techniques to life are over 100 all-new recipes—Beef Ribs with Chinese Spices, Grilled Side of Salmon with Mustard Glaze, Prosciutto-Wrapped, Rosemary-Grilled Scallops—and hundreds of inside tips.