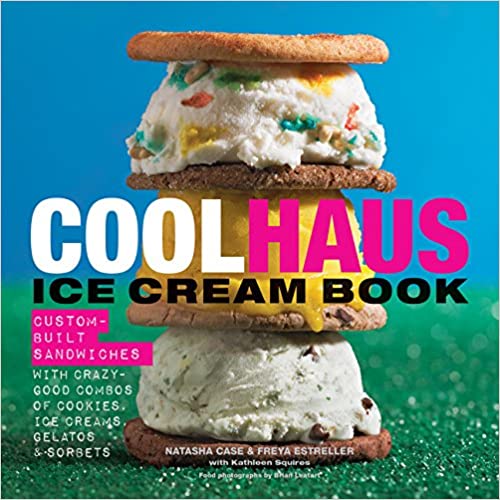 Coolhaus Ice Cream Book by Kathleen Squires
From a beat-up postal van turned food truck, Coolhaus has rocketed to a national brand. Yahoo! called it "the best ice cream in America." The inventive sandwiches, named after famous architects, are sold in supermarkets across the country, as well as from trucks in Los Angeles, New York, Austin, and Dallas. Coolhaus has drawn accolades from the New York Times, Every Day with Rachael Ray, Time, and Good Morning America, to name a few, and from such celebrities as Will Ferrell, Jimmy Kimmel, and Alex Guarnaschelli.
Now the owners part with the recipes for their coolest creations, like the BuckMINTster Fuller (Dirty Mint Chip Ice Cream with Chocolate Chip Cookies) and the Frank Behry (Strawberry Gelato with Snickerdoodles). Daring flavors range from classic (Cookies and Sweet Cream), to boozy (Bourbon Manhattan), to vegan (Lychee Martini), and even savory (Fried Chicken and Waffle).
Sandwiched among the treats are tips on ice cream making, profiles of major and up-and-coming architects, and amusing tales of the owners' forays into the ice cream business.