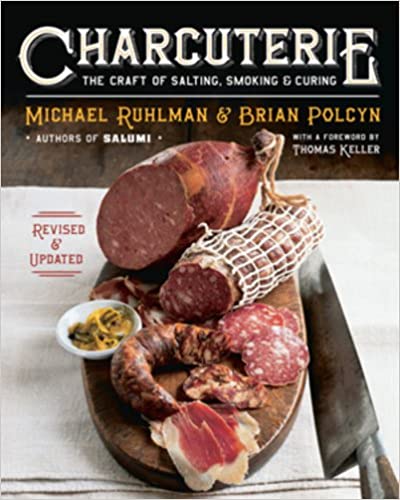 Charcuterie by Michael Ruhlman
Early in his career, food writer Michael Ruhlman had his first taste of duck confit. The experience "became a fascination that transformed into a quest" to understand the larger world of food preservation, called charcuterie, once a critical factor in human survival. He wondered why its methods and preparations, which used to keep communities alive and allowed for long-distance exploration, had been almost forgotten. Along the way he met Brian Polcyn, who had been surrounded with traditional and modern charcuterie since childhood. "My Polish grandma made kielbasa every Christmas and Easter," he told Ruhlman. At the time, Polcyn was teaching butchery at Schoolcraft College outside Detroit.
Ruhlman and Polcyn teamed up to share their passion for cured meats with a wider audience. The rest is culinary history. Charcuterie: Revised and Updated is organized into chapters on key practices: salt-cured meats like pancetta, dry-cured meats like salami and chorizo, forcemeats including pâtés and terrines, and smoked meats and fish. Readers will find all the classic recipes: duck confit, sausages, prosciutto, bacon, pâté de campagne, and knackwurst, among others. Ruhlman and Polcyn also expand on traditional mainstays, offering recipes for hot- and cold-smoked salmon; shrimp, lobster, and leek sausage; and grilled vegetable terrine. All these techniques make for a stunning addition to a contemporary menu.