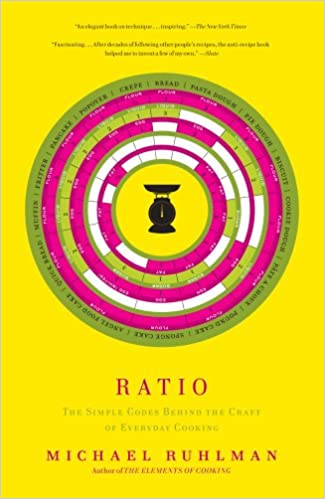 Ratio by Michael Ruhlman
Cooking with ratios will unchain you from recipes and set you free. With thirty-three ratios and suggestions for enticing variations, Ratio is the truth of cooking: basic preparations that teach us how the fundamental ingredients of the kitchen—water, flour, butter and oils, milk and cream, and eggs—work. Change the ratio and bread dough becomes pasta dough, cakes become muffins become popovers become crepes.
As the culinary world fills up with overly complicated recipes and never-ending ingredient lists, Michael Ruhlman blasts through the surplus of information and delivers this innovative, straightforward book that cuts to the core of cooking. Ratioprovides one of the greatest kitchen lessons there is—and it makes the cooking easier and more satisfying than ever.